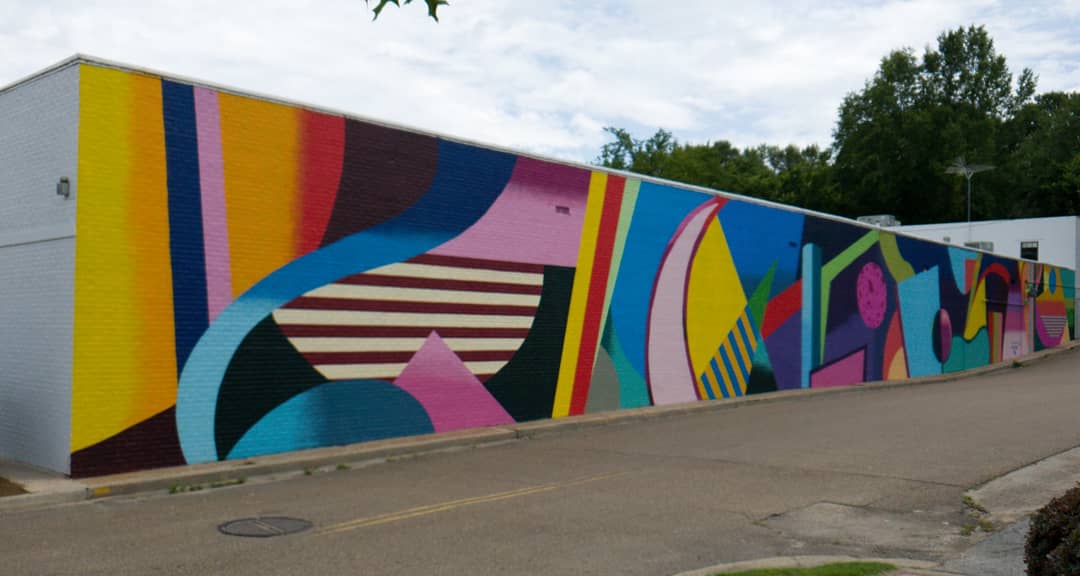 With the addition of a new mural on University Avenue and Oxford's arts center, the Powerhouse, located there – this semester Oxford Stories is embarking on a small solutions journalism project. Or reporters are starting a community conversation about the possibility of a continued arts emphasis in the University Avenue area.
Bailey Thompson
Oxford Stories
Oxford added its first outdoor mural last summer. Located on the back wall of Sneed's Ace Hardware at 1400 University Avenue, it's hard to miss if you're driving in the area.
"Well, the whole idea of it was simply for people to enjoy its brightness," said David Shaw, who owns Sneed's Ace Hardware with his wife, Susan. "It's in a great location. You can see it driving by. You can park your car and walk up to it. It's really just in a great spot that's hard to miss, and I'm so grateful our store was able to support it."
Shaw was approached about two years ago with the idea of creating a possible mural.
"Earl Dismuke emailed me with the idea because he realized we had a perfect amount of space for a good-sized painting," Shaw said.
After serious thought, Shaw and his wife agreed to the project. With an arrangement of bright colors, the painting took four days to fully complete.
"It was a whole process," he said. "We had decided to move all the ACE signs to the front of the store to allow enough space for the painting to be fully seen."
The three chosen artists began working late June 26. Artists Wendell J. Brunious and JoLean B. Laborde worked for the next four days, even stopping for pictures and small talk with local residents who wanted to come by and check the progress.
""It was really neat," said Shaw. "JoLean and Wendell left the store two of the spray paint cans they used, signed them and everything. We put them up on display."
The Shaws have no regrets about the mural.
"It's a great feeling … being able to step outside and seeing people of all ages admiring the mural," Shaw said. "Seeing people stand out there and pose for pictures and knowing that we created something so warm." 

Dismuke, a local sculptor and artist, approached the Shaws with the idea of a mural.
"I saw their space and took my shot," he said. "Public art is important. It helps create dialogue for a community. I thought about a mural because it gives someone who may not feel comfortable in museums or galleries the ability to be to be impacted or moved; to be able to interact with comfort."
Dismuke graduated from Ole Miss in 2007 with a Bachelor's of Fine Arts degree and an emphasis in sculpture. Since then, he has won multiple awards for his artwork, co founded the Yokna Sculpture Trail in Oxford, and has curated the outdoor portion of the University of Mississippi Museum of Art's first major indoor/outdoor exhibition.
"Art is a huge part of my life," he said. "I mean, clearly, it impacts everyone's life. There is no right or wrong piece of art."
The artists came up with three different designs. The Shaws had the final word on the design that would be used.
"I wanted them to create a mural that wasn't representational," he said. "I didn't want to dictate anyone's views or opinions. I wanted it to be tasteful."
Dismuke is a husband and father of four. He wanted to design something his wife and children could enjoy. The mural appeals to all ages, he said. He hopes Oxford's art community will expand in the future.
"An art district in Oxford would be great," he said. "There are plenty of artists in Oxford who would thrive off of an art district."
While the idea of an art district sounds appealing, there are many things that go into it.
"We would need artists centralized in a set location," he said. "Oxford's Powerhouse would be great… but other than that, there is not much space to (do) such a thing."